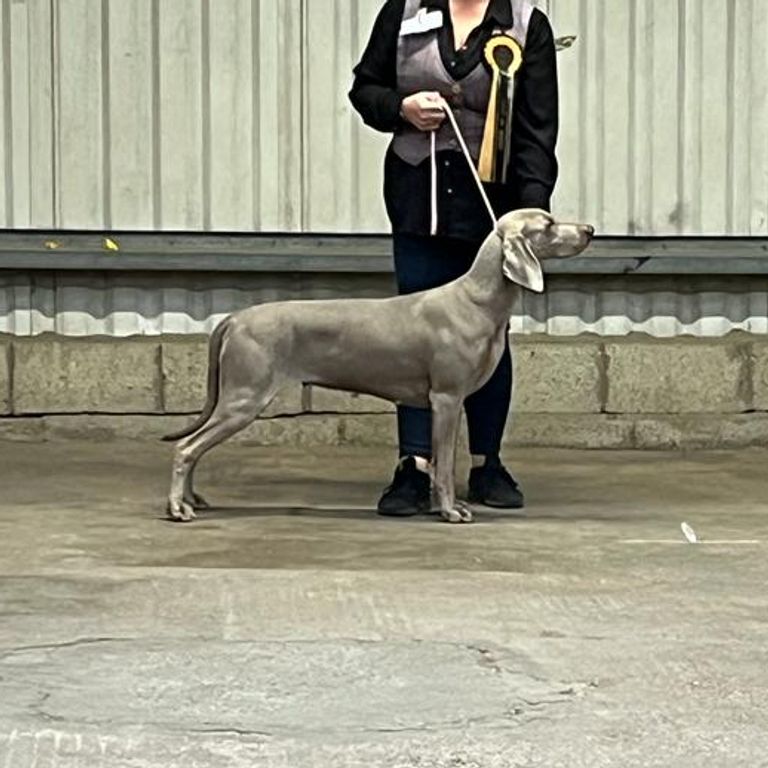 Silberliss Solitaire
Ivy
D.O.B 10/02/2019
HIPS 2:4
INT ShCh NL & Lux CH Silvestre Last Tango with Silberliss JW X Astrazone Kingfisher
Crufts qualified for life
Weimaraner Puppy of the Year qualifier 2019
Best Puppy Driffield Champ Show 2019
1 x Bitch CC - Bath Champ Show 2023
1 x Reserve Bitch CC - Weimaraner Association Champ Show 2022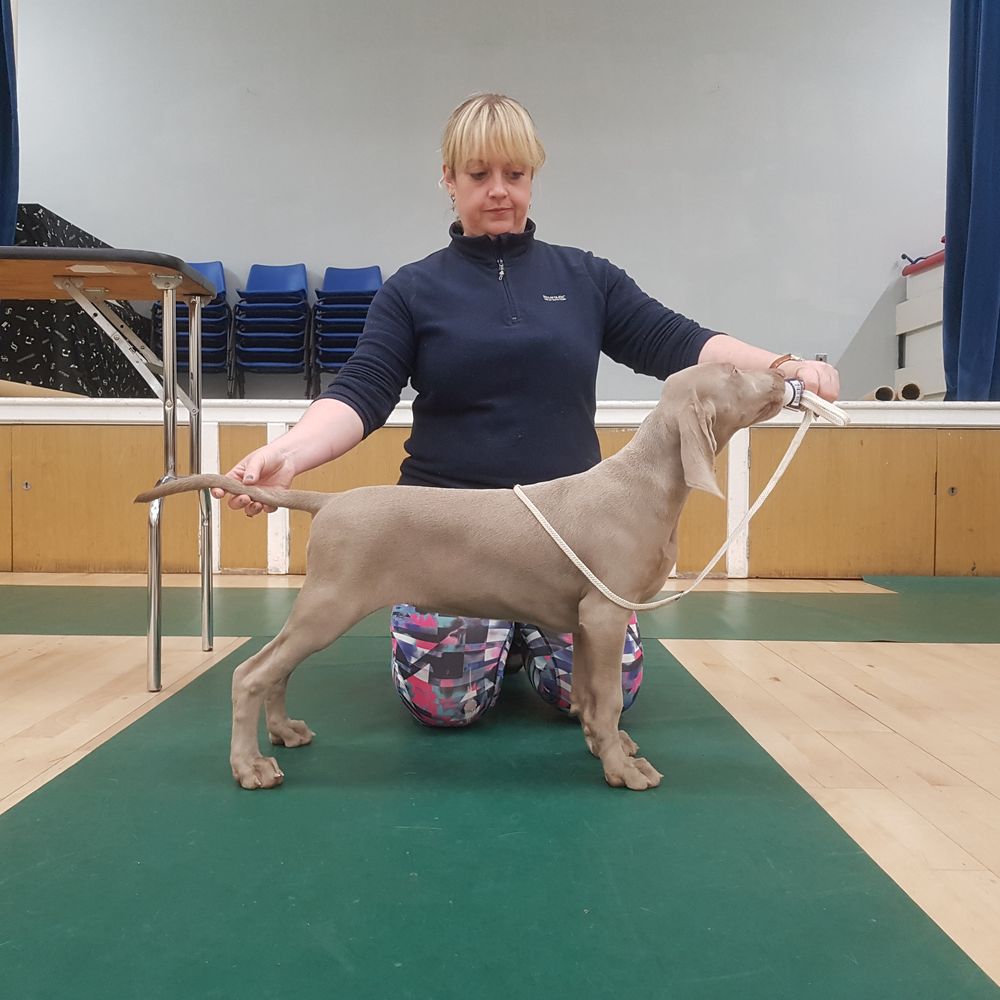 Ivy is the latest addition to my family & was from Evie's 2nd litter. 
Sired by Astrazone Kingfisher "Kobi" who was a regular class winner at Championship Shows, gaining his UK stud book number & taking the Dog CC & Best in Show at NEWS Champ Show in 2019.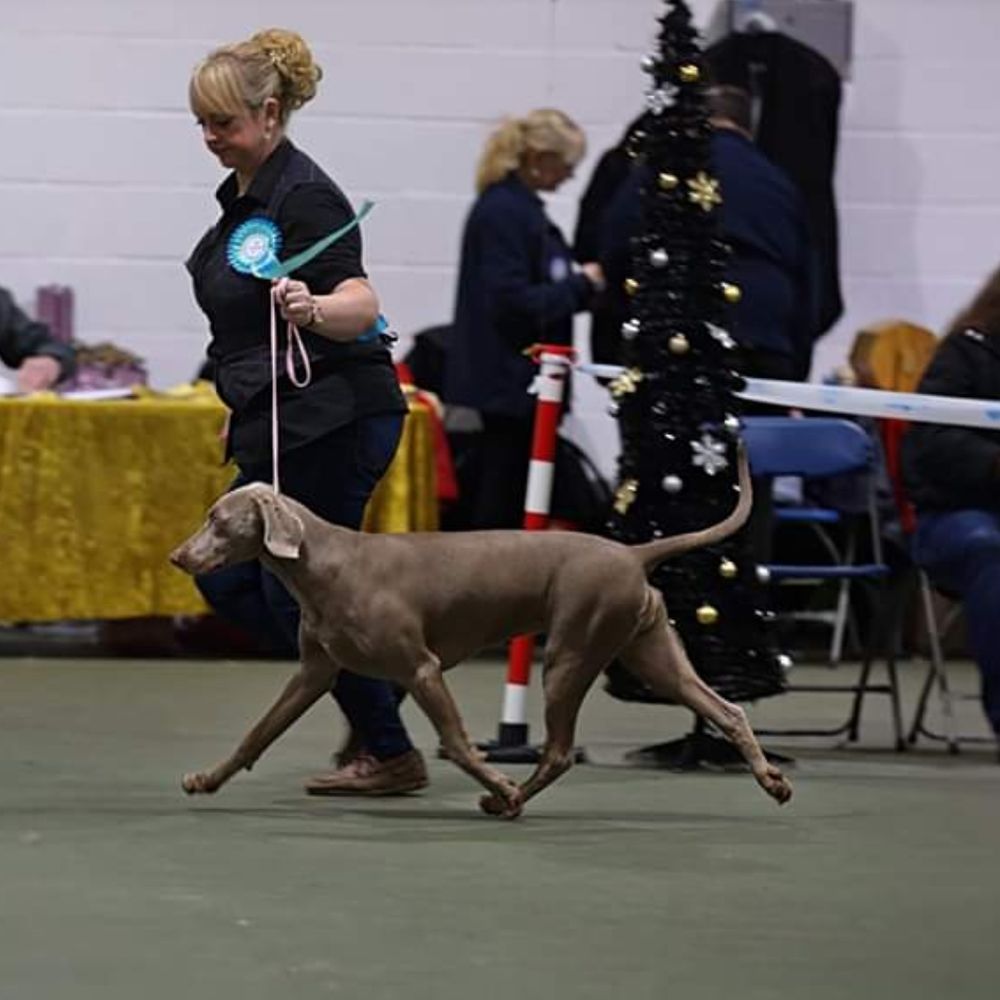 Ivy started her show career in early August 2019.  She has already had many successes with numerous wins in her Minor puppy and Puppy Bitch classes at Championship and Open shows, with qualification for Crufts 2020 at her first attempt.

Ivy was Best Puppy at Driffield Champ Show in September 2019. Won the Gundog Puppy Group at Sheringham & DCS Premier Show. She also took numerous other Best Puppy in Breed & Gundog Puppy Group placings at Open shows throughout the 2019 show season.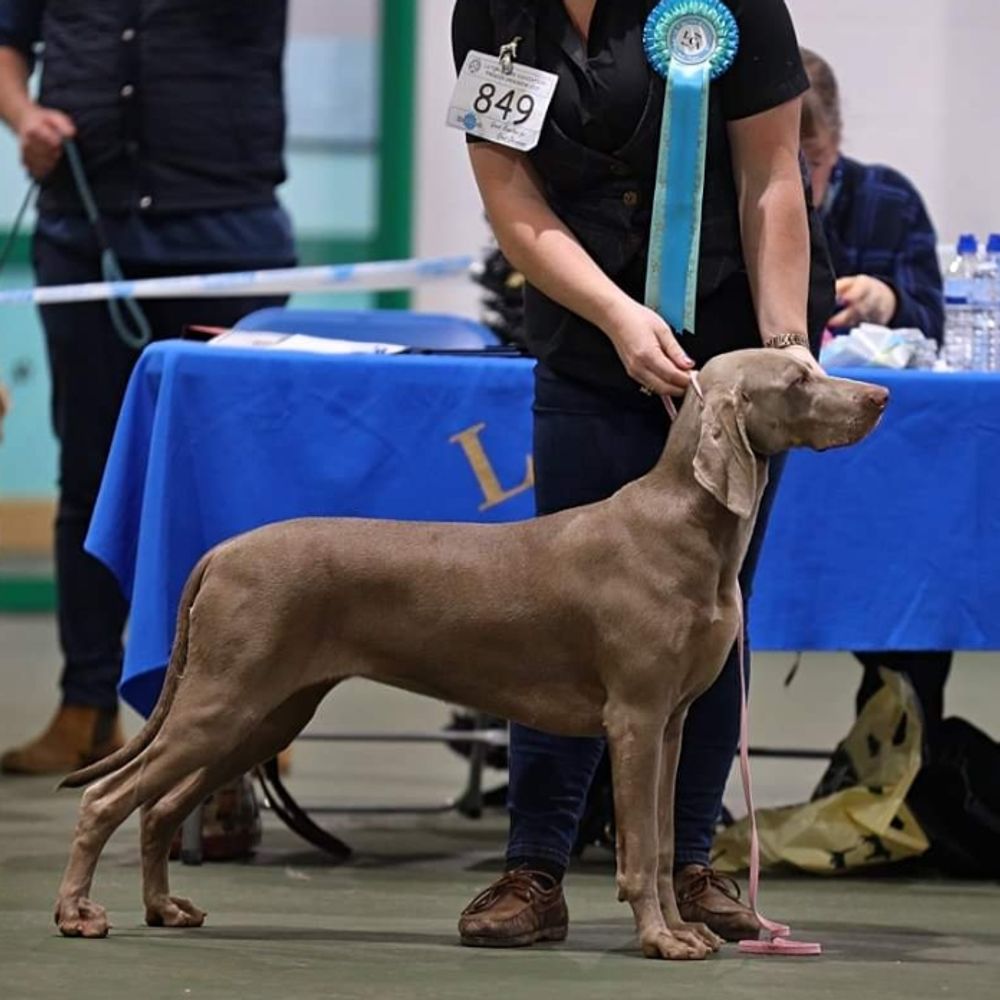 As a puppy Ivy already started to achieve Best of Breed wins at Open shows - being praised for her excellent breed type, correct proportions & effortless movement.
She has a lovely pale silver/grey coat, the correct 12:10 body ratio so distinctive to this breed.  Correct head proportions, ear set & length,  scissor bite, with even angulation & a superb forechest.
As a Junior, Ivy has so far been unbeaten & continues to be awarded Best of Breed at Open shows.
I am very excited to see what Ivy can continue to achieve in the show ring as she matures.
Flitnels Kawazaki King at Zeatana JW

ShCh Gunalt Wharfe at Rocklyan JW

ShCh Cavalmist Coco at Kalimor JW

ShCh Nemrac Nickel by Braefell JW ShCM

ShCh Gunalt Wharfe at Rocklyan JW

ShCh Cavalmist Chaos JW ShCM

ShCh Astrazone Boogie Nights for Bifonda JW ShCM

ShCh Bifonda Aint Too Proud to Beg

ShCh Hundwith Duty to Sireva JW

ShCh Khamsynn Call My Bluff JW ShCM

ShCh Gunalt Wharfe at Rocklyan JW

Forgun Fun to Run with Khamsynn JW

Sireva Duey with Coastedge

Silvestre Muggles and Magic

Can CH Waltz State Fair V Silversmith