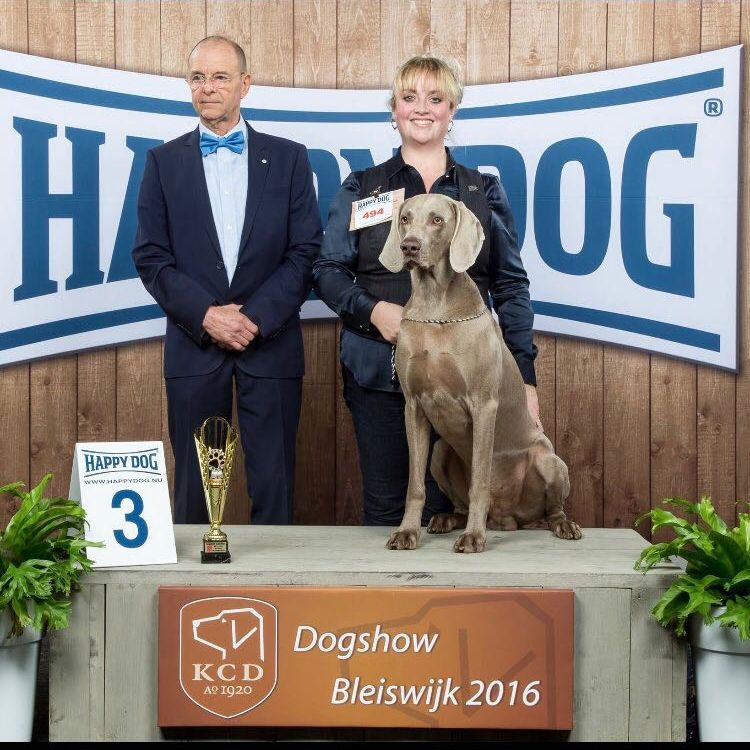 **Weimaraner Club of Great Britain's "Top Stud Dog" 2021**
"COSMO"
D.O.B 18/02/2012
Ansona Secret Whisper at Deifstock X ShCh Nemrac Nickel by Braefel JW ShCM
Hip Score : 8/8 = 16 - 9th August 2013 
UK KC Stud Book number - 1030CY         
 **Qualified Crufts for life** 
FCI International Show Champion, Netherlands, Luxembourg & Belgium National Champion DEIFSTOCK DANDEE RED ShCM VW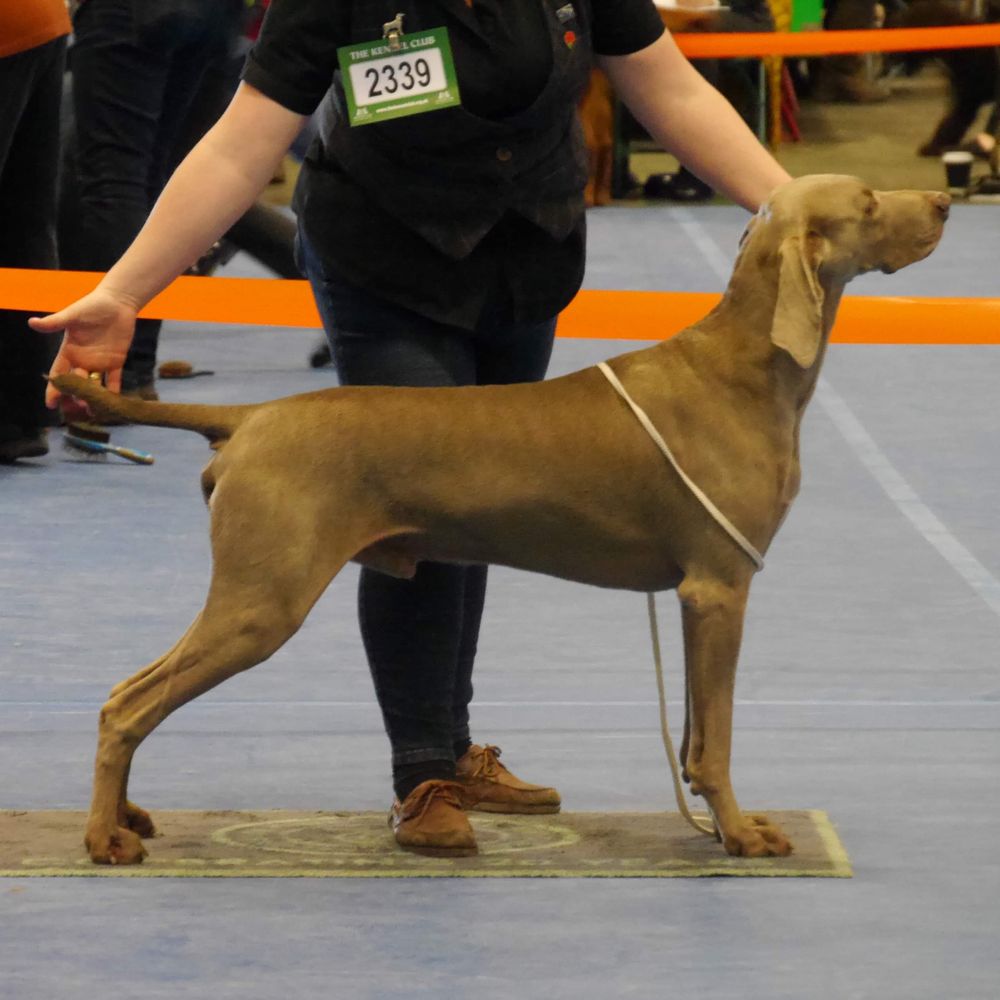 My beautiful Cosmo is successfully siring quality, multi-purpose puppies in the UK & Europe.  He is available to approved, KC/FCI reg and health tested bitches.
Cosmo's progeny make exceptional companions, excell in the show ring, winning at Open, Championship & International level.  Puppies have gained qualification for Crufts & been awarded many Best Puppy and Group awards.  Others are also enjoying agility and have started their field training.  
Fresh & frozen AI is available - graded in the top percentile for fertility & quality.  
Cosmo is not available to any bitch that has a "blue" dog in its pedigree.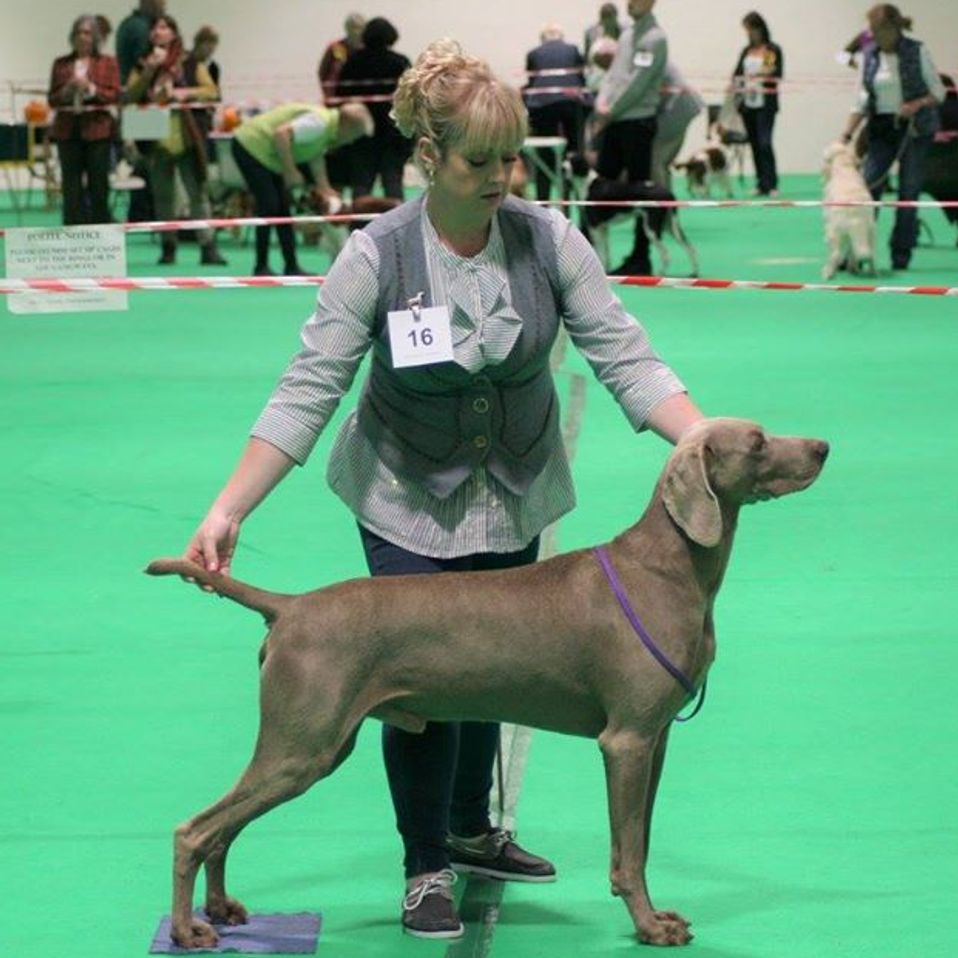 My stunning boy has achieved the following results in the show ring:  
2 x Reserve DCC (UK)  
10 x CACIB – Holland, 6 x Best of Breed, 2 x Reserve Best in Group & 2 x Group 3  
7 x CAC - Holland & Dutch Champion Tite 
1 x CACIB, BOB & Reserve Best in Group - France  
4 x CACIB, 4 x CAC, 2 x Best Opposite Sex & 2 x RCACIB,1 x RCAC – Belgium & Belgium Champion Title  
1 x CAC & 1 x RCAC - Luxembourg & Luxembourg Champion Title 
2 x Green Stars + BOB (Ireland)  
2 x Reserve Green Stars (Ireland)  
UK Open Show title - Show Certificate of Merit awarded in September 2015.  
Gundog Group Winner – UK Open Show.  
Veteran Warrant title (New UK title launched in 2019)               Best Veteran in Show Winner - UK Open Show.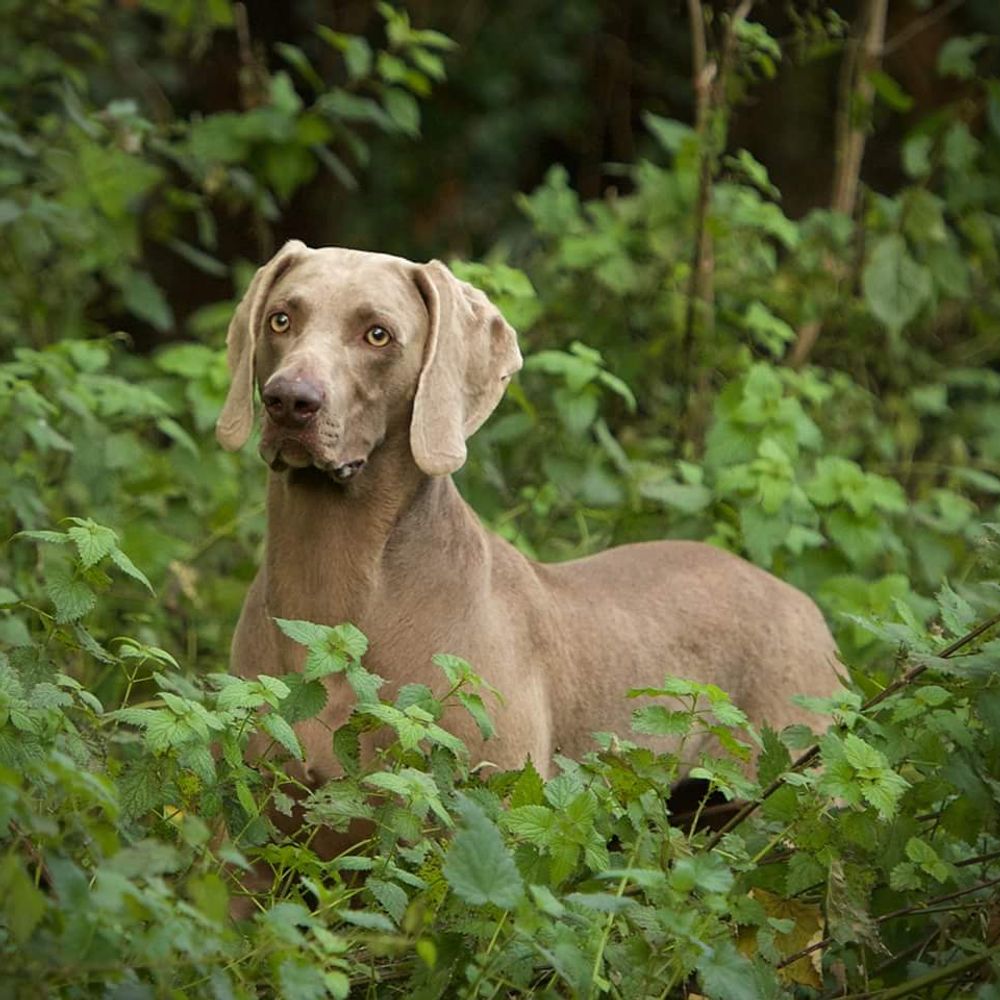 I was very proud that Cosmo was awarded 2nd, 3rd and 5th places in his three champion classes at the World Dog Show 2018, competing against many other champion Weimaraners from across Western and Eastern Europe.  
Cosmo is now classed as a veteran dog when competing.  He has had an exceptional few months in the ring during 2019/2020 show season! Taking 6 Best Veteran awards in the breed at championship shows, including the RDCC at GBAS from his Veteran class!! Best Veteran in Show at Grantham & DCS Open Show and many Veteran Group wins and placings at Open Show level. Ultimately Cosmo gained his new Veteran Warrant title (launched by the KC in 2019) in great style, being only the second Weimaraner ever to do so.
He topped off the 2019 season by gaining qualification in both the Adult & Veteran categories, at the prestigious Weimaraner of the Year event, to be held in late 2020.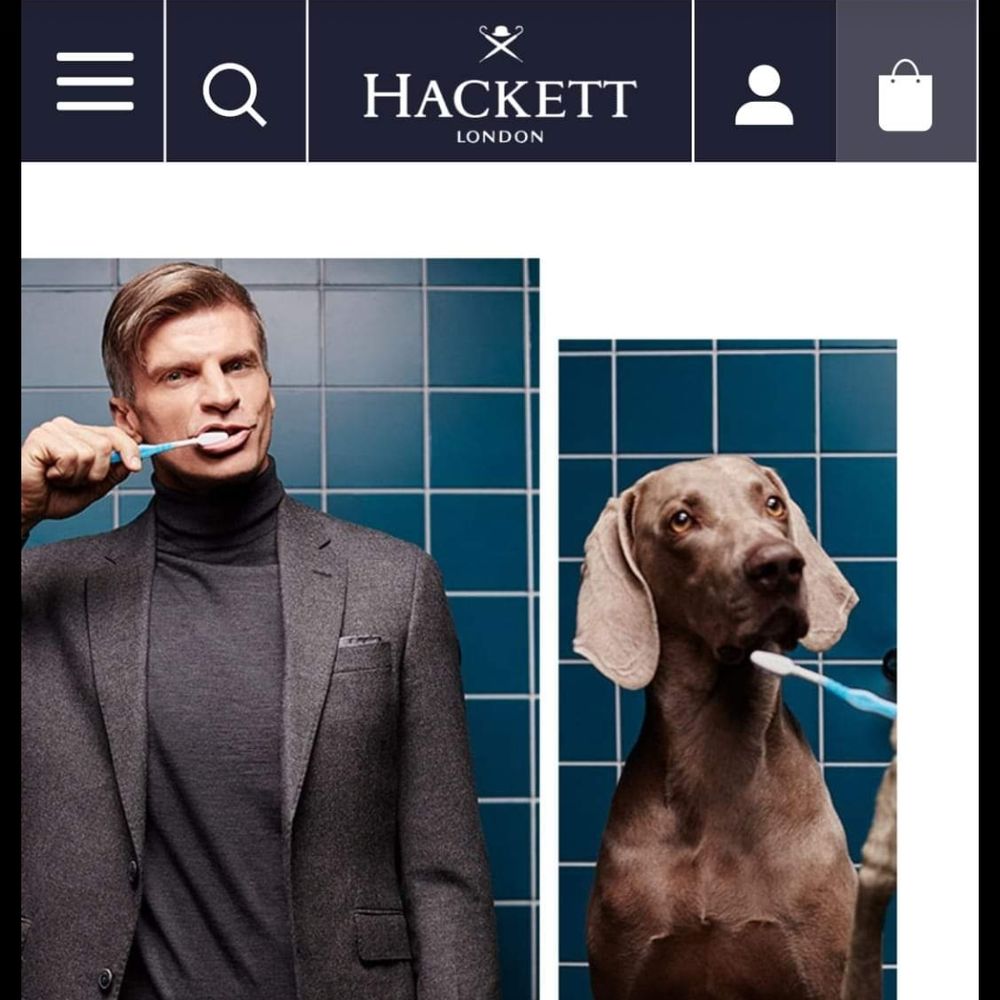 Cosmo's exceptional good looks and fabulous temperament have also gained him opportunities to appear in prestigious publications and promotional advertising. You can see some of the lovely photos from these days in the gallery section. 
Most importantly, Cosmo is an absolute gentleman. He has a very soft and loving personality.  He is a wonderful part of the family.
Cosmo is a stunning example of the breed with the correct 12:10 length of back to height ratio which is an important feature of this breed's standard, great fore and hind angulation, a beautiful classic head, correct ears, scissor bite, fabulous topline, tight feet and silver grey coat.
He has an exceptional pedigree with many great & influential dogs behind him including Weimaraner of the Year winners, Stud Dog of the Year winners, Crufts Best of Breed winners & full champions going back through 5 generations.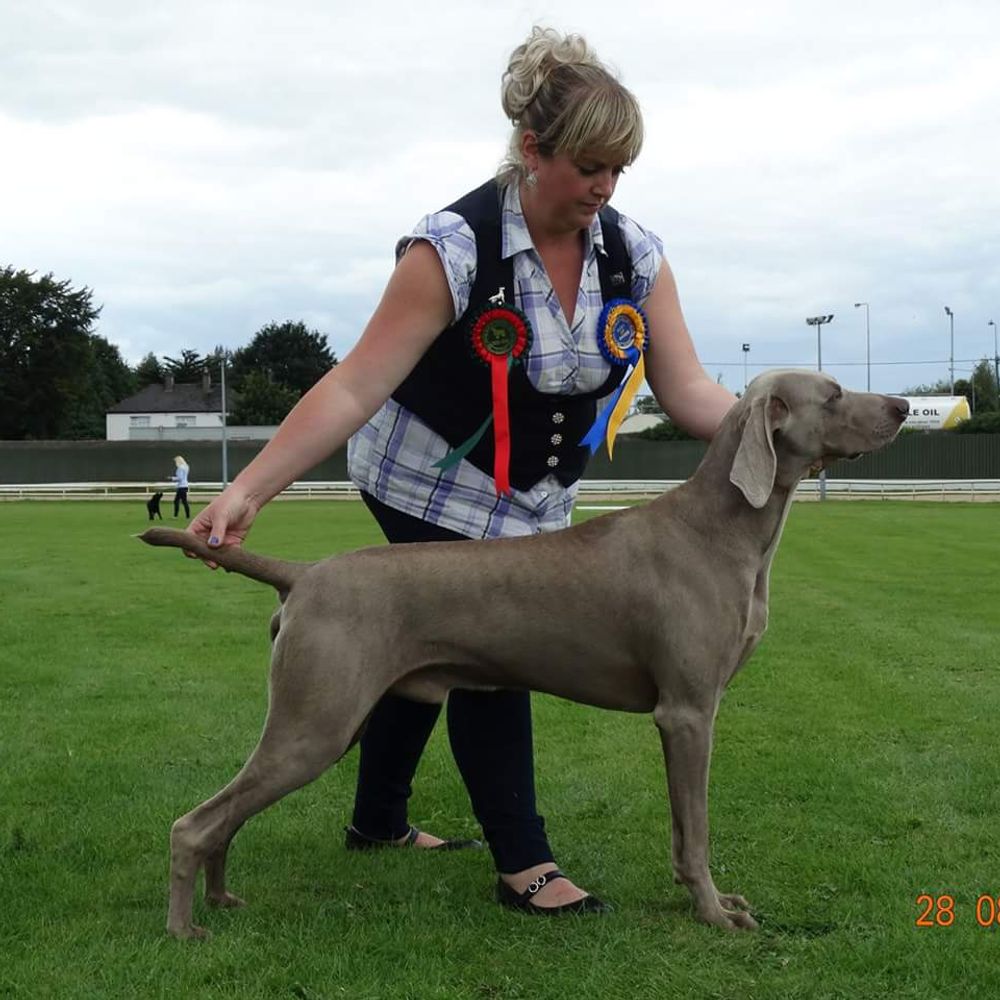 Cosmo was my first show dog & had a fantastic start to his career in the ring, giving me a wonderful introduction into the world of showing - he won Best Puppy in Show at his first ever show at just 8 months of age !! He went on to win a RDCC at just 14 months of age, which gained him his UK Stud Book number & lifetime qualification for Crufts. He also qualified for Weimaraner of the Year 2012/13 (Puppy) & 2013/14 (Adult), 2019/20 (Adult & Veteran)  
Since 2012 Cosmo has proved himself a highly consistent winner & has now gained far in excess of 100 class wins all over the UK, Ireland & Europe & under judges from all over the world.
ShCh Nemrac Nickel by Braefell JW ShCM

ShCh Gunalt Wharfe at Rocklyan JW

Sireva Rainstorm at Hepton

Just Jasmine Around Sireva

ShCh Cavalmist Chaos JW ShCM

ShCh Gunalt Wharfe at Rocklyan JW

ShCh Kalimor Cassis of Cavalmist

Ansona Secret Whisper at Deifstock

Ch IR ShCh Enryb Secret Party JW ShCM

Ch IR ShCh Enryb Christmas Party JW

ShCh Gunalt Wharfe at Rocklyan JW

ShCh Gunalt Carter with Kaeak JW