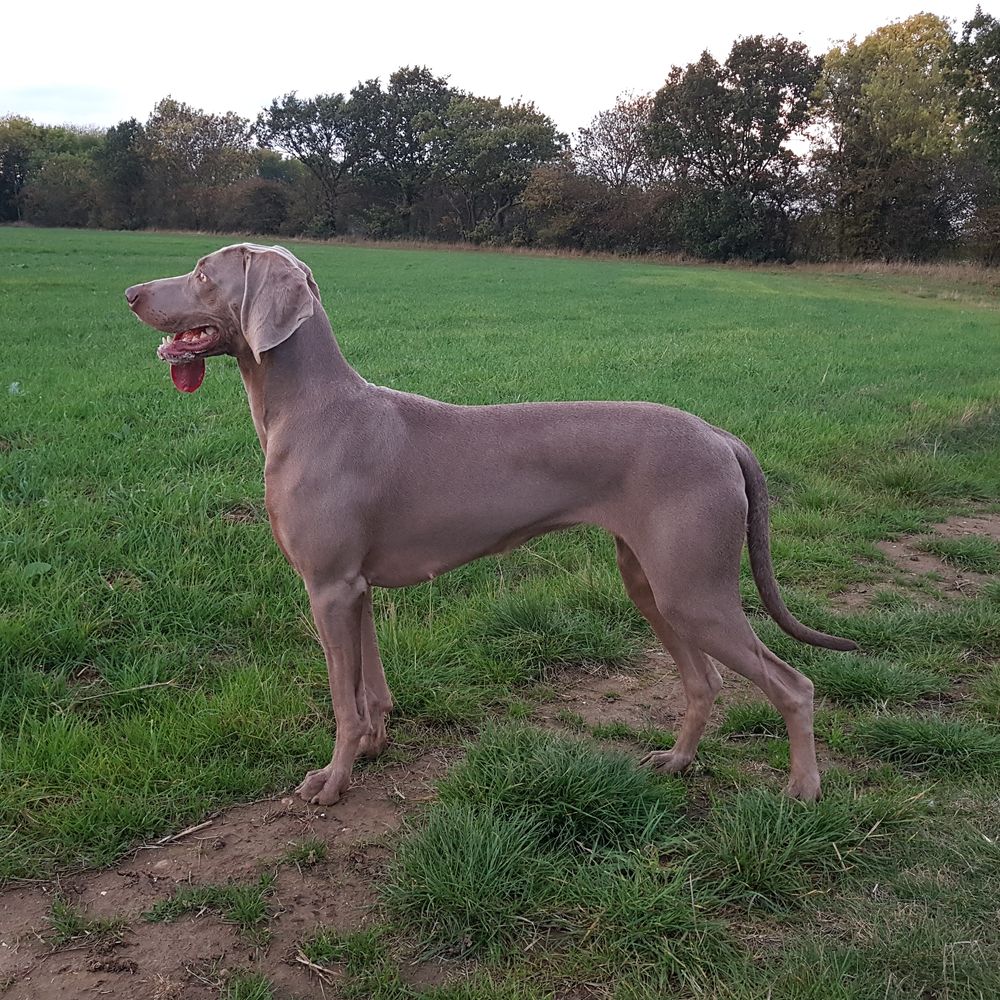 "DORA"
Silberliss Summer of Love
D.O.B 10/06/2017
INT ShCh NL & Lux CH Silvetsre Last Tango with Silberliss JW          X                                                                                                                  INT ShCh NL, Lux & Bel Ch Deifstock Dandee Red ShCM VW
Hip Score : 4/3 = 7 - 21st August 2018
Crufts qualified 2019 & 2020
"Adorable" Dora is a beautiful young lady with the most joyous and loving personality. She is the result of three years' careful planning and an exciting addition to my Silberliss family.
I own both mum and dad, who are prolific winners at Championship/Open and International Shows.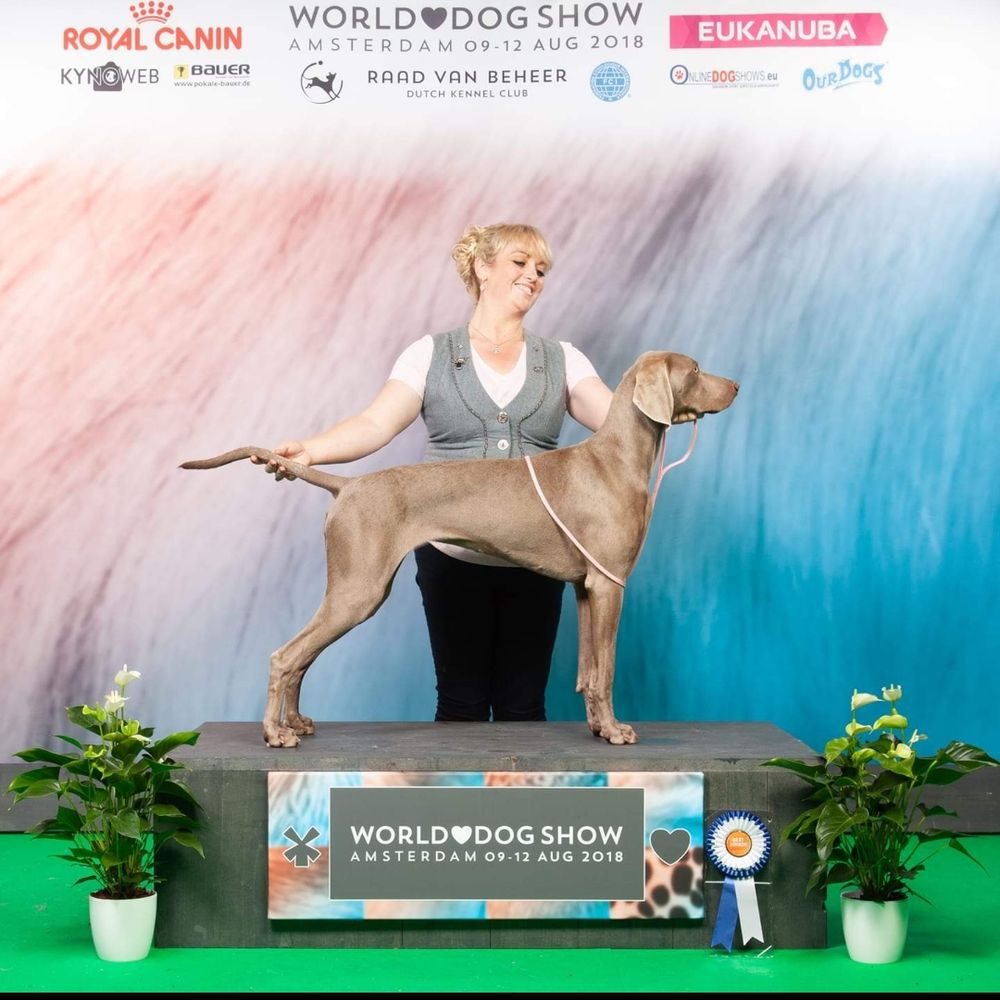 Dora was BEST JUNIOR at World Dog Show 2018 "Speciality Day", Amsterdam August 2018! Dora won this prestigious title from an entry of 17 juniors from across Western & Eastern Europe.

Dora showed great style in the show ring from a young age, winning Best Baby Puppy (at just 4 months of age) on both days of the Bleiswijk International Champ Show in Holland in November 2017 & making the final 10 puppies' cut in the Group judging out of an entry of 67!

Dora travelled to Belgium in December 2017 and was awarded Best Puppy at the prestigious Brussels Dog Show.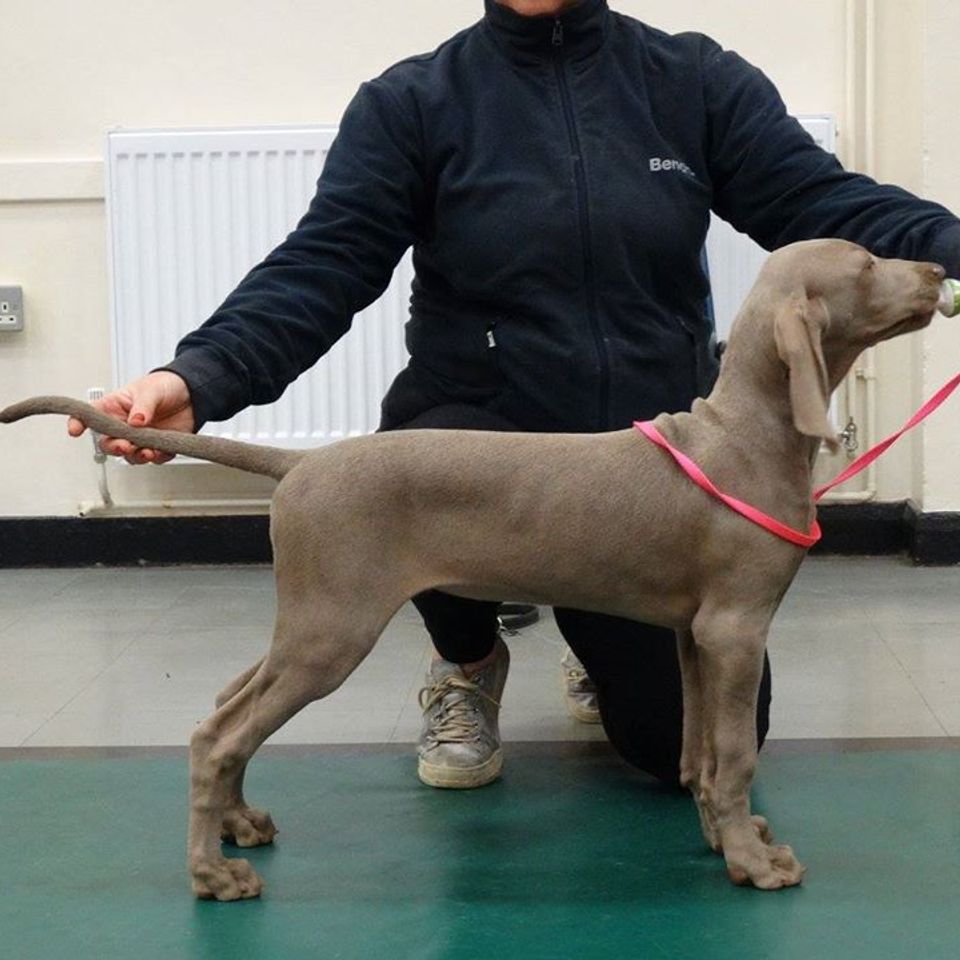 She made her UK show debut in late December 2017 - Dora qualified for Crufts 2019 & 2020.  Along the way has gained many wins at Championship and Open shows, been awarded numerous Best of Breed & Best Puppy in Breed titles at Open shows, along with BPIS 4 at East Anglian Gundog Open Show, Puppy Group 1 at Dunstable Open Show & Reserve Best Puppy in Show at Windsor Gundog Open Show.

In July 2018 Dora was graded Excellent and awarded Best Junior at Dunkerque International Dog Show.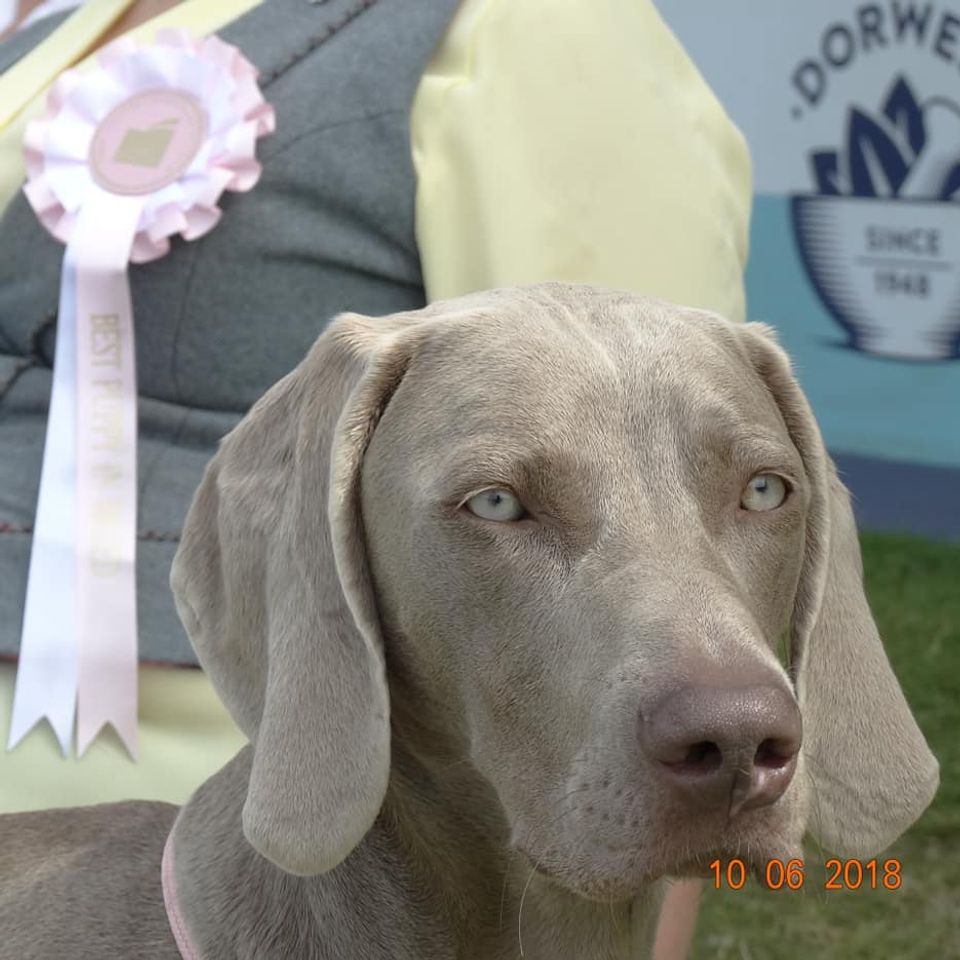 Dora is commended in the show ring for her overall excellent breed type. Her beautiful, sound conformation which results in a flowing, long & accurate stride, and the judge who gave her Puppy Group 1 at Dunstable described her head as "glorious"! Dora is so easy to handle in the ring, being full of confidence and clearly loving the experience.

Dora topped-off her puppy show career at Three Counties Champ Show where she was awarded Best Puppy in Breed by senior judge, Chris Bexon. This also qualified her for Weimaraner Puppy of the Year 2018.
Dora Continued her winning ways during 2019 - winning her class at both NGA & Bournemouth Championship shows, and at the WCGB Autumn Open Show.  She has been having a break from the show ring to have her first litter, sired by ShCh Astrazone Invierno for Jenluis JW" - 8 healthy puppies were born in January 2020.
ShCh Nemrac Nickel by Braefell JW ShCM

ShCh Gunalt Wharfe at Rocklyan JW

ShCh Cavalmist Chaos JW ShCM

ShCh Gunalt Wharfe at Rocklyan JW

ShCh Kalimor Cassis of Cavalmist

Ansona Secret Whisper at Deifstock

Ch IR ShCh Enryb Secret Party JW ShCM

Ch IR ShCh Enryb Christmas Party JW

ShCh Hundwith Duty to Sireva JW

ShCh Khamsynn Call My Bluff JW ShCM

ShCh Gunalt Wharfe at Rocklyan JW

Forgun Fun to Run with Khamsynn JW

Sireva Duey with Coastedge

Silvestre Muggles and Magic

Can CH Waltz State Fair V Silversmith