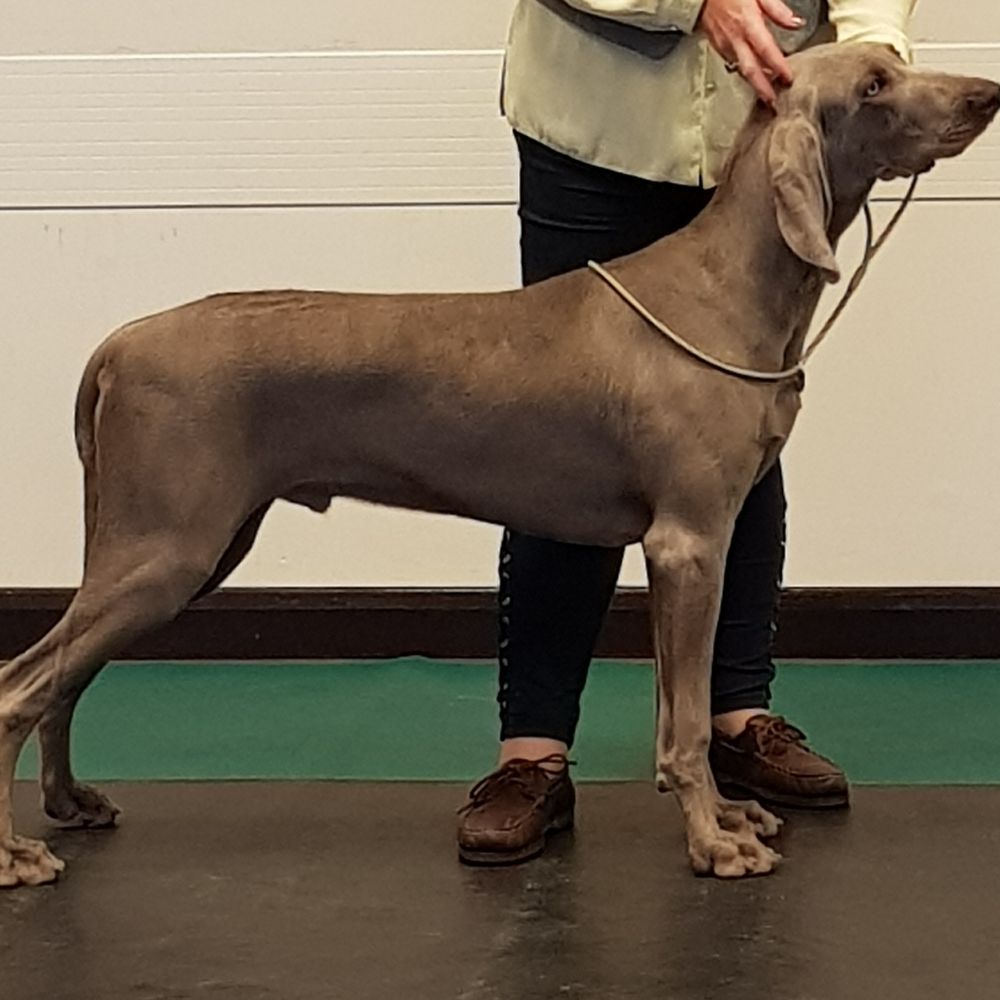 Akwamar Moonstruck "Striker"
Bred, Owned & Loved by Mary & Kim Ward
Sired by my Cosmo & handled in the ring by Mary & myself.  Striker is a gentle boy who has done well in the show ring - qualifying for Crufts 2019 & 2020, as well as Weimaraner of the year puppy qualifier 2019.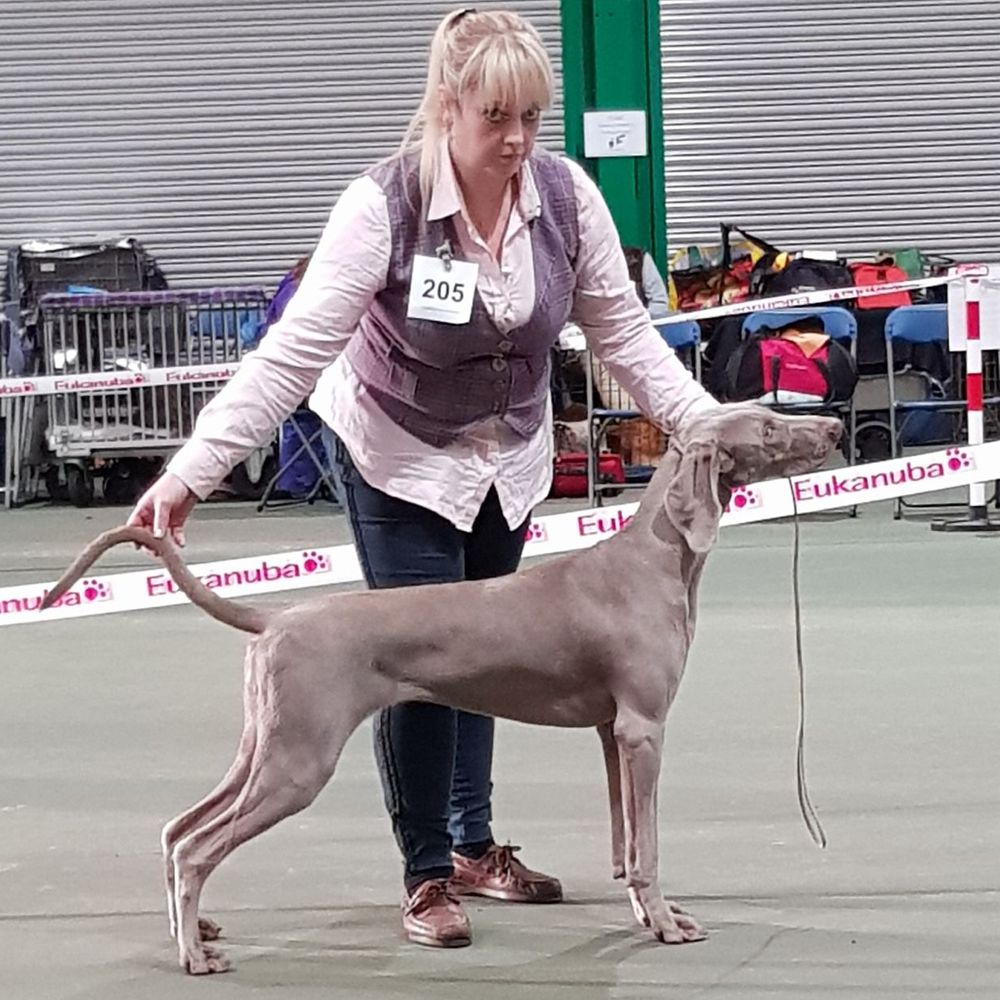 Akwamar Moonlight Sapphire "Saffi"
Owned & Loved by Mick Bradley
Bred by Mary & Kim Ward at the "Akwamar" kennel - Saffi is from a litter sired by Cosmo & litter sister to Striker.  She has been lightly shown & is handled in the show ring by myself & Mary.  Qualifying for Crufts 2019 & 2020, she was awarded 3rd place from 14 entries in her Post Graduate Bitch class at Crufts 2020.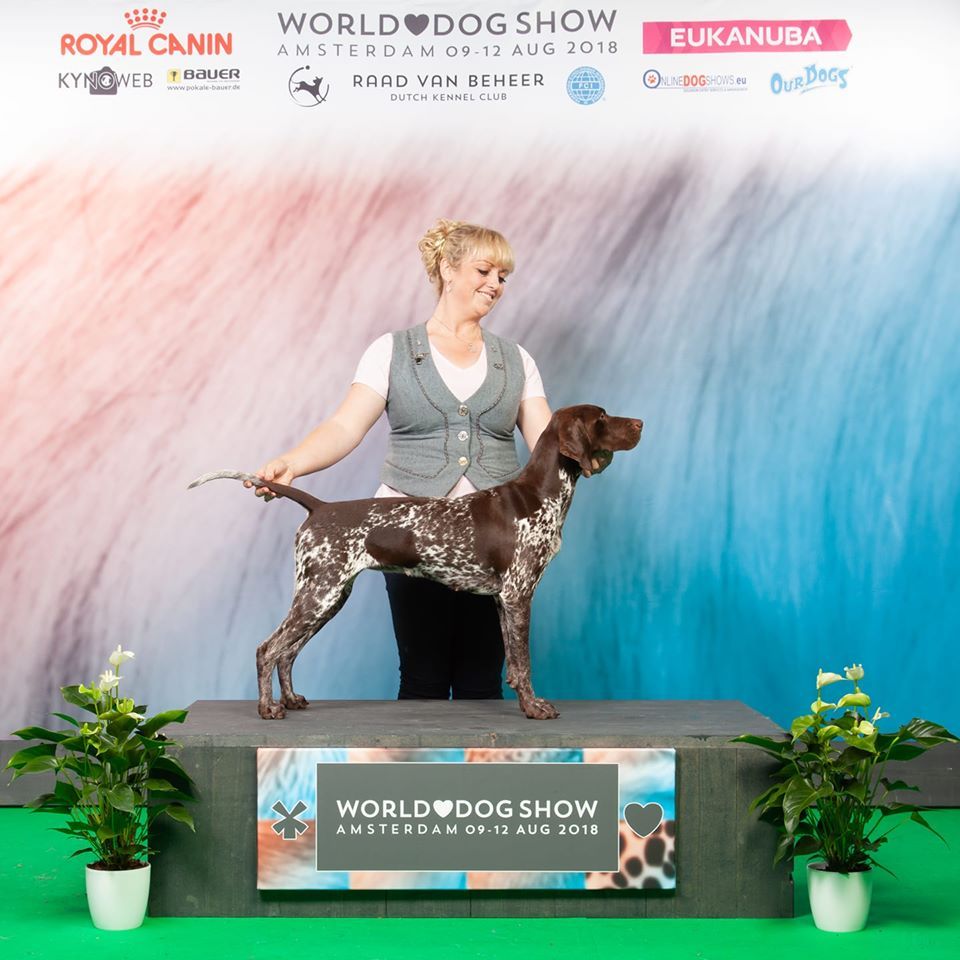 Pingarypoint Legolucious "Ruby"
Owned & loved by Amber Blair
Ruby lives with her "grey brother" Aston, who I bred in 2014.  Ruby came from the Pingarypoint Kennel & was Bred By Mandy Burford.  I have had the opportunity to train & show Ruby to many successes!  At European shows - She was a class winner & graded excellent at the World Dog Show in 2018, gained her Luxembourg Junior title & won her first CAC & CACIB in Belgium in March 2019.  In the UK she was consistently placed in her minor puppy & puppy classes at both Open & Championship shows, she was awarded Best Bitch Puppy at WKC Champ & qualified for Crufts 2018 placing 3rd, 2019 placing 5th & also 2020 (we did not attend).  She has also gained best puppy, Best of Breed & Group awards at Open SHows.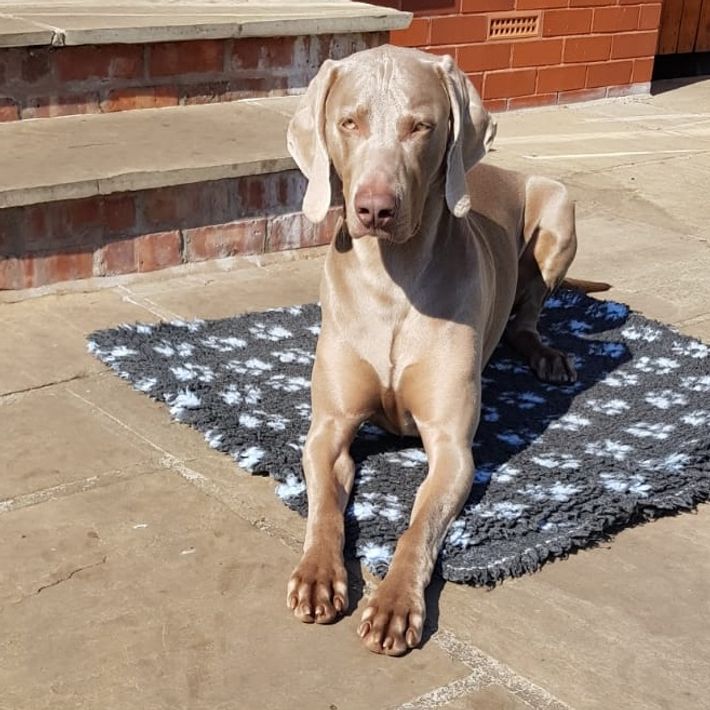 Silberliss Excalibur for Astrazone
Reba is Co-Owned & loved by Gail & Gaynor
Reba is litter brother to my Ivy & is co-owned by Gail & Gaynor, who also co-owned the father of this lovely litter - "Astrazone Kingfisher."
Reba had a late start to showing after coming back to me from his first family, he then went to live with Gail & Duncan and is shown in the ring by Gaynor - sometimes things are just meant to be!
He has been lightly shown through 2019 and had success in his Minor Puppy & Puppy classes at Championship shows, qualifying him for Crufts 2020.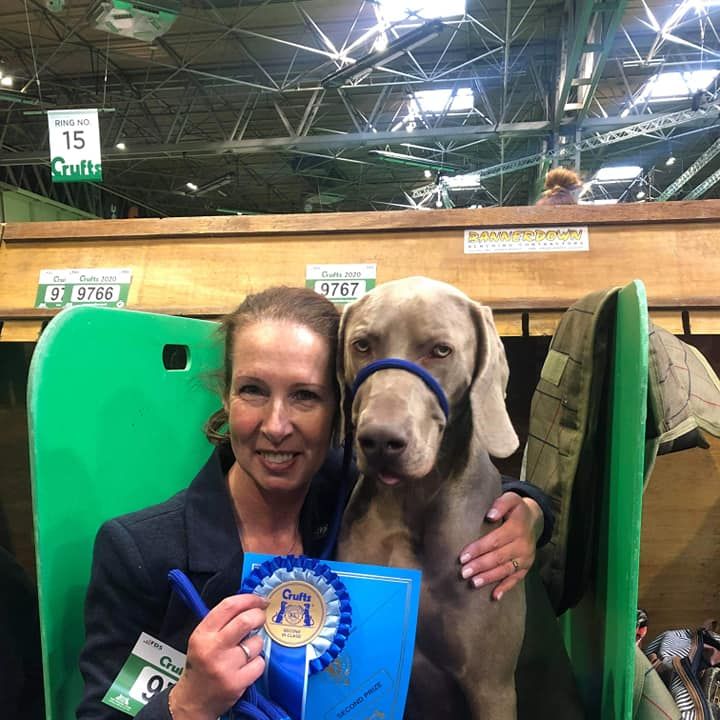 Silberliss Secret Squirrel
Owned & loved by Jo & Ian
Aston is litter brother to my Ivy and is Jo & Ian's first Weimaraner & first show dog.  He has already had super success in the ring & has begun his field training in preparation for joining his local shoot.
I am suoer proud of Jo & Aston who worked very hard to start their show career with a bang!  Aston has had many class wins at Championship & Open Shows, he was Best puppy Dog at Driffield Champ in 2019 which qualified him for Weimaraner puppy of the year!  He also took best puppy in show at The Weimaraner Association Spring Show 2019 & qualified for crufts 2020 where he was 2nd in a strong Junior Dog class.
It was a thrill to see him become "famous for 5 minutes" when he was interviewed by Claire Balding, which aired on National television during the Crufts coverage.
I am looking forward to seeing him mature & continue his success in the show ring and start his working life over the years to come.